Electrical grids are rapidly evolving with the unavoidable, yet necessary, addition of variable renewable energy sources. Current grids struggle with the inherent disparity in wind and solar energy – and will continue to face even greater challenges. Innovative and smart new system are needed to integrate intermittent renewable energy sources (wind and solar) on a mass scale, and doing so securely and safely.
Since the synchronisation of the UAE grid approximately ten years ago, the GCCIA (GCC Interconnecting Authority) project has effectively prevented power disruptions, which has benefitted large industrial clients as well as the wider public. This enabled the creation of numerous logistical facilities as well as free economic zones. All six GCC members are benefitting from the dependability of power supply. As an example, the Gulf's electrical surplus during the winter amounts to almost 70 percent of total production capacity, highlighting the significance of improving connection with surrounding member nations to export the excess and benefit all parties.
Figure 1. Electricity map of the GCC Grid (left) with important GCCIA milestones (right). (Source: GCCIA's Annual Report 2020)
Looking at the UAE's comprehensive power generation and transmission network, it is evident that a lot of the older gas-fired thermal power plants will soon have to be decommissioned. A new energy mix, with large PV capacity, will require far greater degrees of reliability, stability and flexibility at the same time. Even though the transmission system is relatively new, it will require upgrading so that energy storage systems can contribute to the dispatchability and the improvement of combined capacity factors.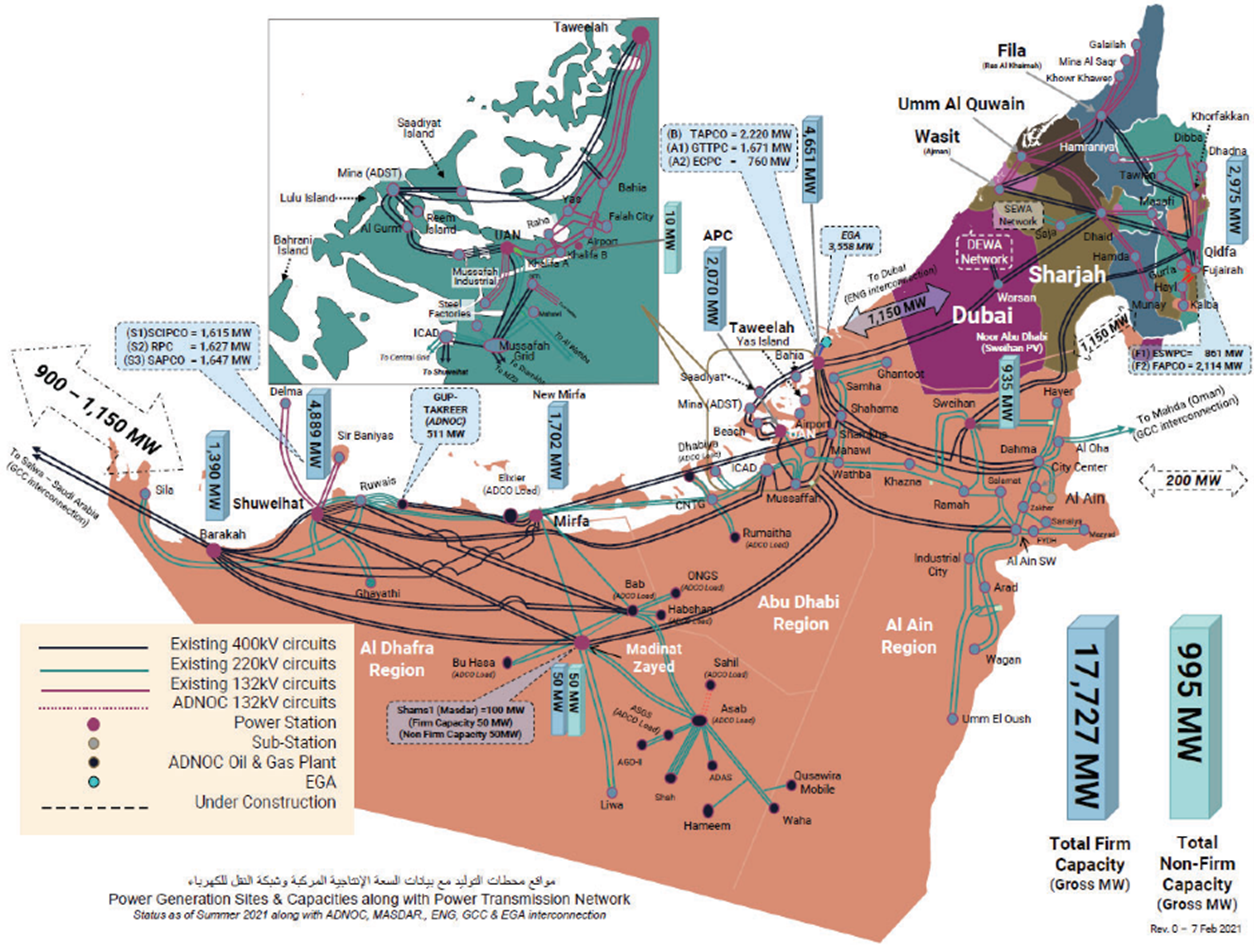 Figure 2. Electricity System Network (as of Summer 2021). (Source: EWEC's Statistical Report 2020)
A significant proportion of the existing transmission and distribution assets will probably require replacement in the coming decades because the technical and economic life for such assets is typically only 30 years in the Middle East.
Achieving climate goals for UAE and other GCC countries will require massive investment in large-scale storage, creating a resilient and dynamic grid, and aligning regulations for renewables over the next 10 years.
Our GHD experience
Based on GHD's global experience, key changes that should be considered are:
1. Encouraging investments and tangible projects in localising power transmission and distribution equipment, smart grids, and smart meters.
2. Preparing a national road map to reach a circular carbon economy, by supporting cooperation between the public and private sectors.
3. Large scale deployment of storage energy systems, both for fast-time response (ideally for ancillary services), as well as for long-duration and seasonal energy storage systems (power-to-x, hydrogen, pumped-hydro, LAES, etc.)
4. Greatly support the digitisation and digitalisation of the transmission and distribution assets, by talking about diverse applications of smart grids, smart buildings, big data, and the Internet of Things for accurate forecasting of peak demand.
5. Promoting techno-economic feasibility studies, on a case-by-case basis, for hybrid systems consisting of solar, wind, hydro (where available), as well as very efficient gas-fired thermal plants (capable of being converted to biogas, hydrogen or ammonia) and supported by energy storage systems.
6. Promoting captive power solutions where applicable, i.e., for isolated areas or for large industrial users, and accelerate relevant initiatives aimed at activating the principle of "open access to electrical networks".
7. Encouraging educational and training institutions to develop and adopt specialised curricula that will support the new skills required in the labor market for T&D jobs.
8. Providing the physical and organisational infrastructure necessary to support the widespread use and spread of electric vehicles (sector coupling with mobility and transportation).
Another successful move could be offering a mix of new and diverse small-scale energy storage options and community microgrids, complemented by a modernised, smarter grid to ensure a more distributed approach.
The way forward in the GCC
Within all GCC countries legal and regulatory frameworks will need to evolve to avoid the risks of under-investment and bottlenecks. This could be achieved by improving integrated planning processes (for supply, demand and flexibility) and establishing adequate compensation to incentivise smart grid deployment from the appropriate stakeholders (state-owned utilities and/or developers).
Governments, regulators and utilities should facilitate the adoption of novel assets for distribution system operators, including technical options, such as advanced voltage and reactive power controls, closed-loop operations and non-wire alternatives. Finally, GCC network stakeholders should develop joint platforms for technology appraisal and standard-setting for physical and digital assets, and for exploring potential grid governance conflicts, particularly at the points of country interconnection and in the link between distribution and national network owners.
The massive penetration of variable renewable energy highlights the urgent need for strong, well-planned policies and investments to improve electricity system security. Electricity systems must be made more resilient to the effects of climate change – and more efficient and flexible as they incorporate larger amounts of solar and wind power, which will be critical to reach net zero emissions in time.
---
Author:
Panos Bafis
Future Energy – Business Group Leader (Middle East)
For more information, connect with:
---
Stay connected to our expert insights
---